Internet Marketing and Sales Program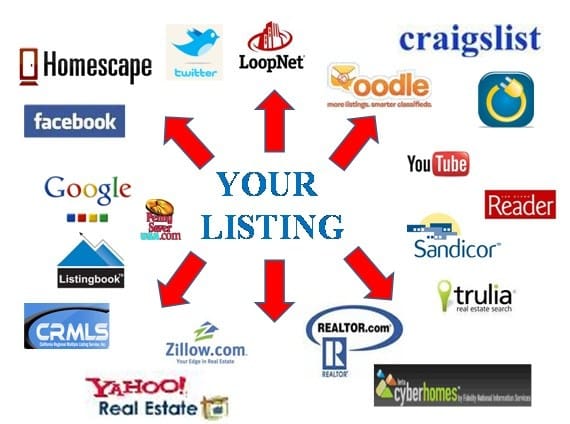 Commercial:
Today, 92% of Buyers begin their properties search on the Internet!
We are one of San Diego's Top Real Estate Internet Marketers.
Our Websites are ranked at the Top of the Search Engines
Our Listings sell usually above average market price.
Wondering how much your home is worth? Click here!
The County Property Real Estates Hi-Tech- Hi-Touch Marketing Plan has been designed to sell your home for as much as possible, as quickly as possible, as smoothly as possible! Real Estate advertising has changed dramatically in the past 5 years, and it's crucial to use the right media to attract buyers – THE INTERNET… Our multiple websites, high search engine ranking, extensive vertical search advertising, Web enhanced listings, custom home marketing websites, delivers an unmatched, high impact selling tool.
Here's the outline of our Full Service – Hi Tech – Hi Touch MLS Listing program…
INITIAL CONSULTATION: The process of selling your home begins with a no-obligation interview and listing consultation. This will give us the opportunity to get to know you, and you us. This will also afford us the opportunity to view your home and make suggestions to help you prepare the home for the market, in order to optimize the ultimate selling price you receive. We have great insight and experience with cosmetic and repair issues that will ultimately net you more for your home. During this consultation we will review our marketing plan in detail, and customize the plan appropriately for your particular needs.
MLS LISTINGS: For starters, we put all our listings in the BOTH San Diego Multiple Listing Service (MLS) called Sandicor, and the Riverside area listing service called MRMLS. This not only ensures that your home is marketed to every agent in San Diego County, but also to agents throughout Riverside County. It also greatly increases the number of websites and web postings that will feature your home. Qualified Buyers are working with agents in this day of Buyer Representation, therefore being in both listing services is essential to presenting your home to all ready, willing and able home buyers. In addition, we maximize the power of the Internet to aggressively market directly to potential buyers. We place our listings into numerous Internet real estate marketing websites, and we follow up diligently with every single inquiry we receive from all the marketing techniques we utilize. In short, we take full advantage of today's technology to market your home as aggressively and comprehensively as possible, to meet the demands of today's marketplace.
UNMATCHED INTERNET ADVERTISING: Today over 80% of all home buyers in San Diego County and elsewhere, begin their home search on the Internet… That's a Fact !  Extensive research by the National Association of Realtors shows that the most important information buyers look for on the internet are:
Detailed Property Information
Multiple Photos
Price and Home Addresses
Neighborhood and school information
Many agents profess to market your home on the internet, but they fail to accomplish some of the above 4 most important steps. County Properties does all them ALL!
INTERNET – NATIONAL WEBSITE PORTALS: Your home is advertised on all of the Nation's major real estate advertising websites such as:
INTERNET – MULTIPLE WEBSITES: We employ a multiple website and domain name strategies.  Each website is designed to rank well in the search engines, and attract numerous Buyers as follows:
 INTERNET – VERTICAL INTERNET ADVERTISING: Due to our use of multiple websites and their affiliates and associations, your home for sale will be advertised in the additional major websites such as:
INTERNET – 1,000'S OF PAGE VIEWS: As a result of our search engine optimization, multiple website design, article writing in our real estate blog, we generate over 2,000 unique home shopper visitors to our websites.INTERNET – PAGE 1 OF GOOGLE: As a result of our unique and aggressive Internet strategies, we are 90% successful in getting the listings of our homes for sale to show up on Page 1 of Google in the natural Search section.  We can usually accomplish this within a week of taking your listing… that's powerful and targeted advertising!INTERNET – CUSTOM HOME-4-SALE WEBSITE: Your own personal Internet Webpage which Exclusively features your home for sale, and the domain name is your street address:SIGNS, FLYER, POSTCARDS: Street signs, yard signs and there will be a BROCHURE BOX with flyers in the yard as well. We will mail out postcards in your neighborhood alerting everyone of the new property for sale.OPEN HOUSES: Even though Open Houses aren't as effective as they used to be prior to the Internet, we still do them if permitted by your HOA association and OK'd by you.EXPERTISE: In addition to aggressive marketing, you want highly experienced Realtors such as County Properties negotiating for you and representing you when an offer comes in. We know how to negotiate effectively on your behalf and protect your interests. We have systems in place to make sure that the buyer of your home and their agent are living up to their responsibilities.  Additionally, we are there for you throughout the inspection process to help you avoid the pitfalls that can occur and to make sure that a fair and equitable solution is negotiated.SUPERVISION: We will provide you guidance and counseling regarding important disclosure documents and experienced advice on termite inspection, home inspection from buyer, etc.  We'll also supervise and expedite all vendors involved with the closing process to insure a smooth and timely close of escrow. You'll be in great hands, for we have many years of Real Estate sales success backed by the experience of over 600 home closings.OUR GUARANTEE: All our listing clients receive County PropertiesNo Hassle Escape Guarantee – which allows you to withdraw the listing at any time, no questions asked, and we pay the MLS withdrawal fees.  We work hard to insure that you won't feel the need to exercise this option – we live up to our word!If you would like to talk about your home or Real Estate plans, feel free to call us at:
619-540-5811 …we're easy to talk too.IMPORTANT NOTICE:  Newspaper and Magazine advertisements no longer attract Buyers like they used to years ago… the Internet is the new dominate source for Home for Sale advertising… here's why !
Magazine advertisements typically have just one photo, and due to the publishing lag time, the listing information is out of date or worse yet, many of the homes are already sold.  Internet savvy home shoppers know this about Home Magazines, and therefore don't refer to them and utilize the Internet instead.  The Web gives them up-to-date detailed information with multiple photos, and more…
Newspaper advertisements often times have no photos at all, and incorporate just 3 to 4 lines of text to advertise an $800K home.  The information is timelier than a magazine, but the information is lacking.  Today, intelligent home shoppers will bypass the newspapers and go directly to the internet for all of the descriptions and photos they desire.
Open Houses are less effective than they used to be years ago.  Prospective homebuyers realize that when going to Open Houses you often don't know the Price, Size or features of the home.  Using the Internet, prospective buyers can search through thousands of homes for sale, and in just minutes, select the hand full homes that meets their specific wants and needs.
Please don't misunderstand us, will still advertise in traditional print media if you like and conduct Open Houses. But if you want to obtain top dollar for your San Diego home by maximizing the exposure of your home to as many prospective internet savvy home buyers as possible, then you need to list with a Real Estate company that thoroughly understands and maximizes the power of the internet… that's us…County Properties.
Want to know how much your home is worth? Fill the form here for a free professional analysis.